Your Download Is Ready...
Follow the steps below to access your download instantly
Download your  "First Steps" Mild Autism Checklist
Simply RIGHT CLICK on the  large download link below.  Depending on your browser, choose:   'Save Target As…' , 'Save Link As…' or  'Download Linked File As…'.  You can then save your free report on your computer.
I hope you gain many valuable insights from the above Checklist!
If you would like further free Information on how to help your Child,
below you will see Two more Offers I am pleased to make to you:
I offer you 3 very useful emails:
for you to become
a more effective Parent,
and to gain better
home-Harmony.
I have Packaged The Information From The Home Page
into 3 emails, for your convenience.
Would you like to receive the 3 emails?
Benefit from
our Experience!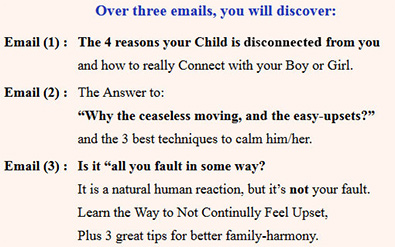 The Partner to the
'First Steps' Guide,
I offer you a set of tips
about creating more Time
to do all you need, and
gaining extra Energy
to do all your tasks..!
Find more Time and more Energy
"There's one thing I need even more than good advice!"(actually two things)
(1) TIME to read all the Autism information
(2) More ENERGY to put it all into Action!
This Free Guide will get you more of both!
Put in your details below
We value your privacy and would never spam you